Let the Games (and Art) Begin!!
I love the summer Olympics!  The torch is being lit on April 21, 2016 (today) to start the torch relay from Olympia, Greece to Rio, Brazil. There is just something exciting about thinking about athletes who have practiced and trained for so long, and are coming to compete while they represent their country.
It's this kid of dedication that produces greatness in all of us.  We don't one day magically become proficient or magnificent at anything without practice. So where do you start? I think chalk pastels are a wonderful place to begin.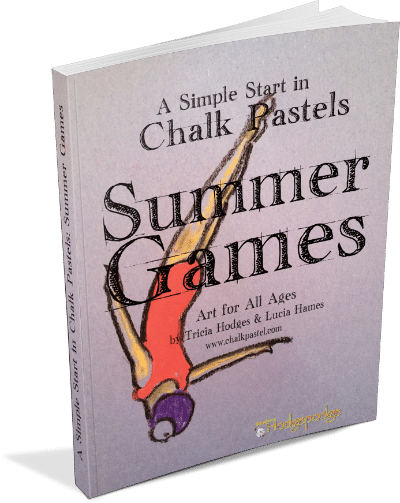 I was given a copy of this book for free in return for my honest review. All my opinions are my own.  This post may contain affiliate links.  See my full disclosure policy for more details.
Chalk Pastel Art
I don't know why I haven't tried this before. Maybe I was worried about the mess of chalk pastel art. I shouldn't have been. This was one of the most forgiving mediums to try with kids that I've ever worked with.
There are many options for chalk pastels, but I'd recommend just starting off with a simple set. Then all you need is some smooth paper like this Canson pad. Sometimes the projects ask for specific colored paper, and so a pack like this tinted paper would be great.
Chalk Pastel Art of the Summer Games
My mom joined in on the fun as we sat down and watched the YouTube instructions for drawing the coliseum. The projects are so simple to follow, and I really had no idea how fun it would be to blend the colors with my fingers.  The chalk pastels are so forgiving! We kept wet paper towels nearby to wipe off our hands before switching colors.
Everyone's drawing turned out a little differently, but they are all beautiful.
Other tutorials in the Summer games book include:
diving
Games coliseum
archery
gymnastics
laurel wreath
sailing
The Games – basketball, volleyball, soccer, tennis, golf, hockey
We're looking forward to trying them all!
The best part about these projects is that they are fast and easy to complete, but very rewarding.
Check out all of the projects at the Chalk Pastel shop.
Which tutorial is your favorite?
Betsy Strauss is an unexpected homeschooler, mother of three, who is in a relationship with a sweet man for life. She loves reading books, drinking coffee, and learning anything with her kids.